BeLocal Washington County
Discover Local Favorites in your hometown!
Welcome! We're here to help.
When it comes to advice you can trust, who better to hear from than long-time community residents? With BeLocal, there's no need to wonder where longtime residents go for fun, food, shopping, activities, and more.
Take a peek inside the latest issue for words of wisdom and smart suggestions from true locals.
Starting over in a new hometown is never simple.
But through BeLocal, you can easily explore local living at its finest. Check out the articles below to learn more about some of the best "hidden gems" the community has to offer.
Meet Your Publisher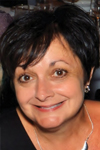 Linda Roman
Don't miss out on the latest BeLocal news — follow us on social!
We received our issue of BeLocal Washington County in the mail yesterday. We both went through it cover to cover finding lots of new experiences for ourselves in the coming months. Places to eat, places to visit, activities to experience. Thank you!

Ken and Ginny R.

McMurray, New Resident

I wanted to say hello, and shoot you a note to say that I love the magazine! Born and raised in 'little Washington' I know this area well, though your magazine made me smile and reminded me of growing up around here. I moved away in 2010 and came back, then away again in 2015 for about 7 years. Having returned in December of 2022, it's amazing to see what's new and how much further developed the area is... though many greats still remain!

Brent K.

McMurray, New Resident

We found BeLocal magazine to be the most useful guide for anyone searching for information in the surrounding area. Also when looking for a restaurant, or wineries, the referrals were valuable. It was eye-opening to see how much there is to do here, from outdoor parks, tours, golf, and shopping areas. All areas of interest are covered here from churches, golf, museums, and shopping areas. All first-class with great reviews. This is a great go-to guide for any family learning the area or a long-time resident that needs a little refresher on new opportunities in the area. Thanks for helping me get tuned into great events, contractors, and anything to do in Washington County. This is a must for anyone to learn the area.

Will W.

Washington, New Resident
Interested in advertising in this magazine? Contact us today!